Albino Pink Belly Sidenecks – Emydura subglobosa 
Albino Pink Belly Sidenecks are one of the most beautiful albino turtles produced in captivity! They're one of the few albino turtles that get better looking as they grow. They have some of the brightest colors and contrast of any reptile morph. Albinoturtles.com is the largest producer of this morph, and we have been working really hard to make them more available to the world.
Albino Pink Belly Sidenecks start off life as very tiny hatchlings. And, because of that small size, we do not sell fresh hatchlings. Instead, we take the time to raise them up to a safe size. Albino Pink Belly Sidenecks are a medium sized species, which live well in groups. While not large turtles, they require plenty of space to be happy and healthy. We love our turtles, so we set them up in the largest breeding enclosures possible. This species loves warm temperatures, and requires basking areas with UV light. Albino Pink Belly's look amazing in either outdoor or indoor displays. You will not find a better looking albino turtle to display in a aquarium!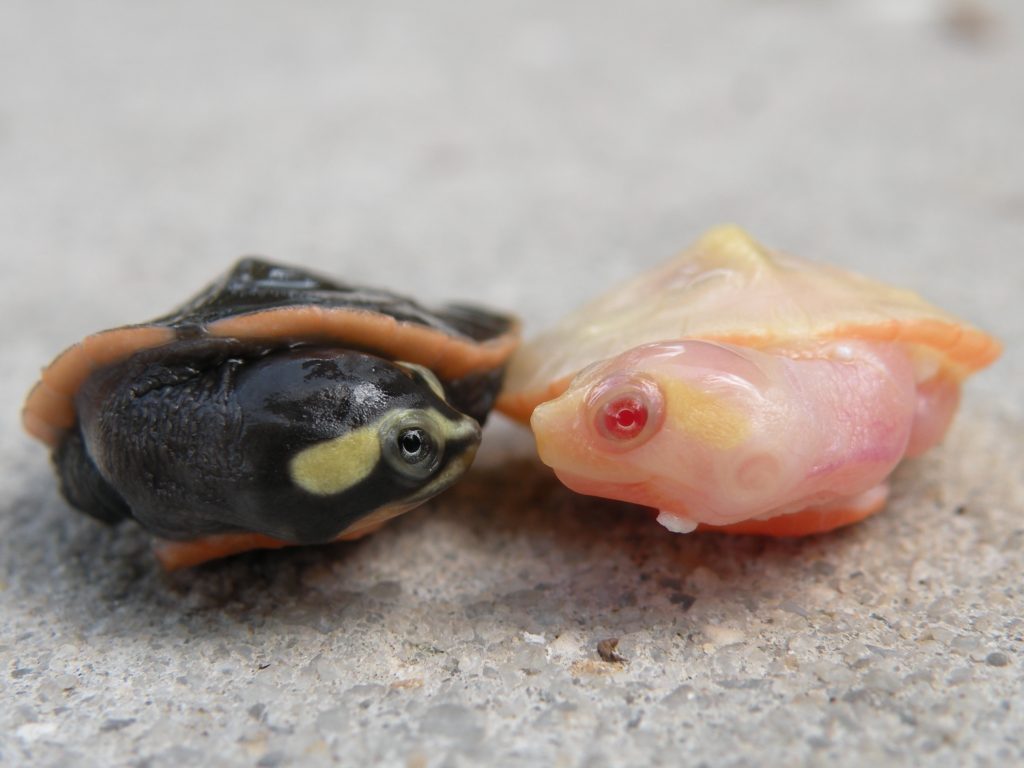 Looking for Albino Turtles for your display or breeding project?
We offer next day shipping anywhere in the USA (where legal) through fedex express. We take the safety of our animals very serious, and only use Shipyourreptiles.com for domestic shipments. Turtles ship in styro lined shipping boxes. Hot or cold packs depending on temperatures. We offer international shipping, and can handle all permits and shipping. Visit our CONTACT page for domestic shipping information or questions about international exports.
Visit our AVAILABLE page to see what we have ready to ship now.
WE LOVE OUR TURTLES! Every turtle we produce and sell is very important to us. We want them to live long and happy lives in their new homes, and offer lifetime help with any turtle you get from us. We work hard to make sure that you know everything you need to know about their husbandry, and what makes them happy.